14.02.2023
The third industrial fund ARETE has started construction of a new modern hall, which will be located in the industrial park ARETE Park Rokycany 2. The total value of the investment will reach EUR 40 million. The park is intended for a long-term tenant, which will be the Duvenbeck Group, a provider of comprehensive logistics services.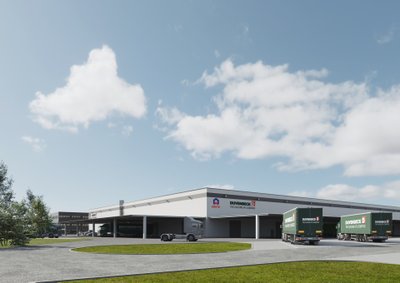 Once completed, the complex will offer almost 30,000 m2 of modern warehouse and office space, thus expanding the offer in the region with the second largest supply of industrial and logistics real estate in the Czech Republic. The project will take into account ESG standards, which are part of ARETE Group's strategy. 
The main advantages of the park include its location on the D5 motorway, allowing easy dispatch to the Central Bohemia region, Pilsen, and the German border. Another advantage is the proximity to several larger cities such as Rokycany or Pilsen, which provide sufficient workforce. 
The building is part of the investment group's third industrial fund targeting premium manufacturing and logistics properties with stable yields. The company not only develops but also manages properties located in the Czech Republic, Slovakia and other countries in the CEE region. The total size of the fund is expected to reach 600,000 sqm of lettable space and a value of EUR 400 million. €. 
There are several other modern logistics and production facilities in the vicinity of the park. Among the most interesting premises located on D5 are the former ARETE Park Rokycany, CTPark Cerhovice or Panattoni Park Zdice.  
Source: ARETE