09.08.2022
NAUT GROUP s.r.o. signs agreement for 4,700 square metres in the speculatively developed hall in GARBE Green Park Piešťany, which is now fully occupied. GARBE launches development of the second building with 18,000 sq m.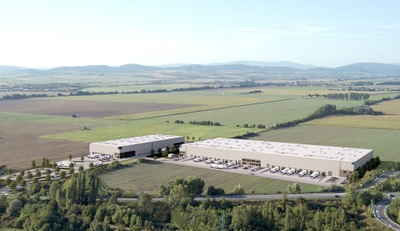 GARBE, Industrial Real Estate CEE, a logistics and industrial real estate specialist in the CEE, signed a lease agreement with NAUT GROUP SK s.r.o. NAUT is a professional in the world of outsourcing services. The company's business is focused on retail, complex e-commerce solutions, warehousing, and logistics. It will occupy 4,700 sq m in GARBE Green Park Piešťany.
GARBE Green Park Piešťany has also launched the development of its second building comprising 18,000 sq m. Completion of the new hall is planned at the beginning of next year. It too will follow the highest quality standards, including gas autonomy. The industrial space is developed speculatively based on high demand in the region and the quick lease of the first hall.
"The speculative development was very successful so we've decided to continue with the park's development and add 18,000 sq m. Customer demand is very high thanks to the great location. GARBE Green Park Piešťany is the only plot with permission to deliver industrial real estate within the zoning plan," said Martin Stratov, Business Development Director GARBE for Czech Republic and Slovakia, "The Park's sustainable approach is unique. Our latest tenant appreciates it and it's one of the reasons they chose to work with us," he adds.
GARBE Green Park Piešťany is GARBE's flagship project in providing sustainable solutions for the CEE region. The buildings will be equipped with heat pumps, which make the park's carbon footprint neutral, and it does not use gas for its operations. It includes photovoltaic panels, water from a well on site, and the circular water system ensures it's recycled. The development will preserve the surrounding environment and in addition, a new place for bee hives will be designed.
"We needed modern industrial space in a good location to serve our growing portfolio of customers. With the increasing costs of energy and gas, the fact that the park is sustainable and self-sufficient played a key role in the decision process. The solutions it offers are very unique for the CEE market," said Pavol Kohár, Business Development Manager, NAUT GROUP SK s.r.o. "We are excited to move in and we plan to implement specific automatic processes here which are key for logistics and e-commerce," he added.
GARBE Green Park Piešťany is located 300 metres from the highway exit to Piešťany, 80 kilometres from Bratislava and 110 kilometres from Žilina. This ensures easy access to other markets in CEE and beyond. A public transport bus stop is located right next to the park.
Source: GARBE