18.03.2022
Hall C of VGP Park České Budějovice in South Bohemia has been completed and handed over to its tenant, logistics provider Dascher Czech Republic.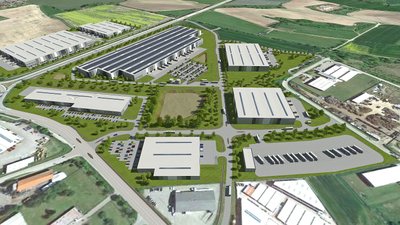 The new logistics and offices premises, which total 7,042 sq m, will come into use in the next few days. This comprises 2,000 sq m of transhipment space, more than 4,300 sq m of warehouse space and 650 sq m of offices. It also has 14 loading ramps as well as a charging station for electric vehicles.
"The new premises will enable the fastest and most convenient handling of shipments than ever before, while also having an emphasis on energy efficiency and sustainability. We always strive to be environmentally friendly in our parks, and as a company we are committed to becoming carbon neutral by 2025. Specifically, at VGP Park České Budějovice, we are aiming for the BREEAM 'Very Good' certification and, in addition to a number of sustainable features of the buildings, we are also planning to plant greenery around the site," said David Plzák, VGP's country manager for the Czech Republic.
The warehousing complex is being developed on a 37 ha site the outskirts of České Budějovice, in the Světlík commercial zone, just off the D3 motorway connecting Prague and Linz. It will eventually comprise seven halls with more than 126,000 sq m of leasable space suitable for logistics and light manufacturing, as well as public parking for 30 trucks. Prague-based (and Belgian-owned) industrial developer VGP is also revitalising an adjacent pond in order to support local water retention and landscape biodiversity, while also reconstructing and improving a bicycle path.